We strive to be the most trusted place to find honest product information. We work tirelessly to make Looria the go-to platform when making purchase decisions.
Let's face it. Researching products is a pain.
Untrustworthy Information
While most people read reviews before buying products, it's often hard to trust what's written in reviews. Why is that?
Companies manipulate reviews of their products (or their competitors' products) with:
Fake reviews on their own sites (it's easy for a company to curate reviews on their website)
Fake reviews on marketplaces like Amazon and Walmart by incentivizing their consumers to leave positive reviews through coupons and refunds
Incentives to professional reviews by giving them free products, paying them directly, and offering rich affiliate programs, which leads to a lot of dishonest content found through Google and YouTube
Heavy Research
As a result of so much untrustworthy information, researching products is a huge chore. People spend more time than they should researching products by:
Researching heavily to find trustworthy sources, often found via enthusiast communities on Reddit, Discord, Slack, forums, and more
Cross-checking multiple sources to identify patterns of what people say and find the best price
Looria makes researching products easy.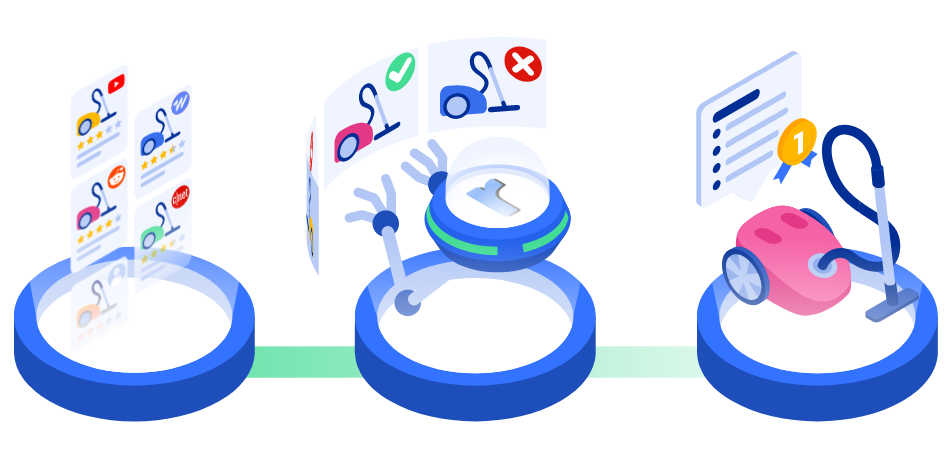 Trusted Sources
We collaborate with experts and enthusiast communities to identify the most trustworthy sources for product reviews. This goes across any platform, including YouTube, blogs, forums, social media, marketplaces, and more.
Authentic Reviews
Fake reviews and scam websites can be difficult to detect by customers. We deploy machine learning capabilities to find which reviews are truly helpful and authentic.
Research Done For You
We gather, analyze and summarize the most trusted product reviews. Our goal is to make it easy to find the best products for you at the best price.
We always show which sources we reference to give proper credit and allow people to discover amazing reviewers and product communities.
FAQs
Q: How can we trust you?
A: Our trusted sources and ranking calculations are fully open source. You can learn more and contribute here. We do not accept incentives to adjust our rankings. If you are a company and want to improve your rankings on Looria, we suggest you pay more attention to your customers' needs and improve your products to the point where people openly advocate for you.
Q: How do you make money?
A: We earn commissions from affiliate links to places you can buy products found on our platform. We feel this is the most natural way to earn an income from our hard work as it provides a free product to people and does not interfere with the experience like advertising.
What's next?
We're constantly improving Looria and will soon add new features like:
Product communities for anyone to ask questions and enthusiasts to help and discuss
Browser extension and app for broader and richer product research experiences
Further expand our product catalog
Tracking product revisions and models
Building a community of product enthusiasts
Brand-level reviews and trends
Pros/Cons summaries
Meet our team
Looria is a team of curious engineering and business minds committed to radically improving how people make decisions based on reviews.
Let us know what you think! Any feedback is greatly appreciated.